"Yes, I'd sell about 100,000 to 200,000 a day, if I needed money for a particular deal I'd sell more," answered Mr Kumova.
Mr Sibtain then read a May 29, 2021, tweet from Mr Kumova saying, "I started buying BGL at 3¢ because a stock promoter gave me a tip. 87 cents now and Motley [Fool] calling $8 at some point is why I invest in micro spec stocks. Every now and then when management deliver on their promises magic happens."
In response to questions about why he promoted Bellevue Gold on Twitter at the same time as selling shares in alleged "pump and dump" actions, Mr Kumova repeatedly insisted he was "proud" and "excited" about Bellevue Gold.
The mining entrepreneur added he believed ASX-listed Northern Star may have launched a takeover bid for Bellevue, given two Northern Star employees had joined Bellevue and both miners had West Australian tenements near each other.
"I invest in the speculative end of the market and I'm excited and proud about the fact that Motley Fool is saying it [Bellevue Gold] could be like Northern Star," Mr Kumova said.
Mr Davison, 67, is expected to take the witness stand next week. The defendant is a social media personality better known by his Twitter profile Stock Swami, with a reputation for using the online soapbox to regularly scold company directors, executives, and the Australian Securities and Investments Commission for perceived inadequacies or misdemeanours.
The self-styled sharemarket cop and citizen journalist is a New Zealand resident and former internet entrepreneur, and uses the Swami moniker after he spent 12 years living in a spiritual ashram in NSW in the 1980s.
New Century's Goro mine bid
Mr Sibtain also cross-examined Patrick Walta, the managing director of New Century Resources, over a $55.1 million capital raising it announced on April 21, 2020, which included a $23.8 million investment from listed miner Independence Group for an 18.4 per cent stake in New Century.
On May 26, 2020, New Century announced it had entered into an exclusive period to complete an acquisition of the Goro nickel mine in New Caledonia.
"You're not aware of anyone having acquired NCZ [New Century] shares while in possession of non-public information concerning NCZ's proposed acquisition of the Goro mine prior to the announcement of the Goro mine are you?" asked Mr Sibtain.
"Correct, I'm not aware." said Mr Walta.
Mr Sibtain went on read an April 21, 2020, email from Independence Group's chief executive Peter Bradford to Mr Walta complaining about an April 21 tweet by Mr Davison that stated the Goro mine was an intended acquisition for New Century.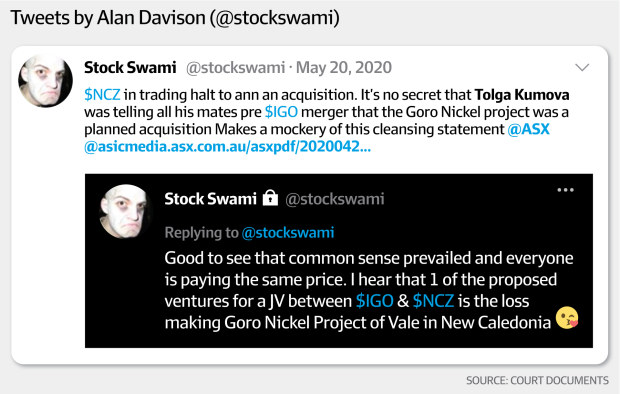 Mr Walta told Mr Sibtain he did not agree that there had been a loss of confidentiality around the proposed bid for the Goro nickel mine.
New Century's April 21, 2020 announcement of a $55.1 million capital raising and investment from Independence Group contained no reference to the Goro mine.
Mr Walta said New Century had made a non-binding indicative offer for the Goro mine by around mid-February, but it had been rejected and that it would be misleading to disclose it to the market given there were multiple other bidders and the bid was non-binding and conditional.
Mr Walta also rejected assertions that Independence Group had an obligation to disclose to the market that it was aware of material information that couldn't be released to the market publicly as it was "excluded" on the basis of being commercially sensitive when it issued an April 21, 2020 cleansing notice to the market.
In a trial dominated by the pitfalls of Twitter, the judge briefly suspended proceedings on Thursday to scold a legal stakeholder in the case for live-tweeting proceedings.
Get Latest News Update
I have tried to give all kinds of news to all of you latest news today 2022 through this website and you are going to like all this news very much because all the news we always give in this news is always there. It is on trending topic and whatever the latest news was
it was always our effort to reach you that you keep getting the Electricity News, Degree News, Donate News, Bitcoin News, Trading News, Transfer News, Gaming News, Trending News, Digital Marketing, Telecom News, Beauty News, Banking News, Travel News, Health News, Claim News latest news and you always keep getting the information of news through us for free and also tell you people. Give that whatever information related to other types of news will be
made available to all of you so that you are always connected with the news, stay ahead in the matter and keep getting today news all types of news for free till today so that you can get the news by getting it. Always take two steps forward
Get More Live News
All this news that I have made and shared for you people, you will like it very much and in it we keep bringing topics for you people like every time so that you keep getting news information like trending topics and you It is our goal to be able to get
all kinds of news without going through us so that we can reach you the latest and best news for free so that you can move ahead further by getting the information of that news together with you. Later on, we will continue
to give information about more today world news update types of latest news through posts on our website so that you always keep moving forward in that news and whatever kind of information will be there, it will definitely be conveyed to you people.
Get More News Today
All this news that I have brought up to you or will be the most different and best news that you people are not going to get anywhere, along with the information Trending News, Breaking News, Health News, Science News, Sports News, Entertainment News, Technology News, Business News, World News of this news, you can get other types of news along with your country and city. You will be able to get information related to, as well as you will be able to get information about what is going on around you through us for free
so that you can make yourself a knowledgeable by getting complete information about your country and state and information about news. Whatever is being given through us, I have tried to bring it to you through other websites, which you may like
very much and if you like all this news, then definitely around you. Along with the people of India, keep sharing such news necessary to your loved ones, let all the news influence them and they can move forward two steps further.
Credit Goes To News Website – This Original Content Owner News Website . This Is Not My Content So If You Want To Read Original Content You Can Follow Below Links